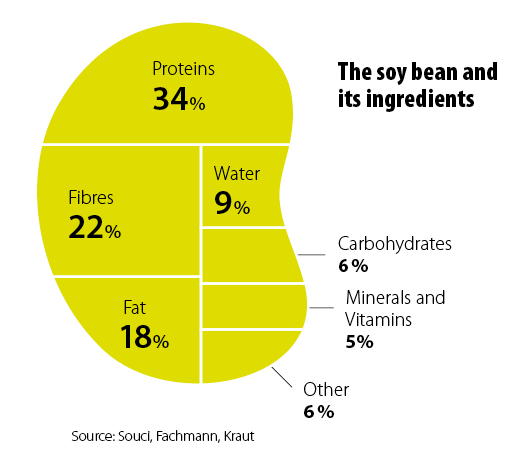 Versatile, efficient, ecological
Soya is one of the most important and most efficient plant crops. Low production costs and high protein values, together with its protein composition (amino acids, comparable with animal protein) make it ideal for widespread, varied application.
Soya is therefore used in animal feed, in human food (tofu, cooking oil, soya milk, lecithin etc.), for cosmetics, printing inks, plastics and biofuel. Some 75 per cent of soy is used for animal feed, mainly for feeding pigs and poultry.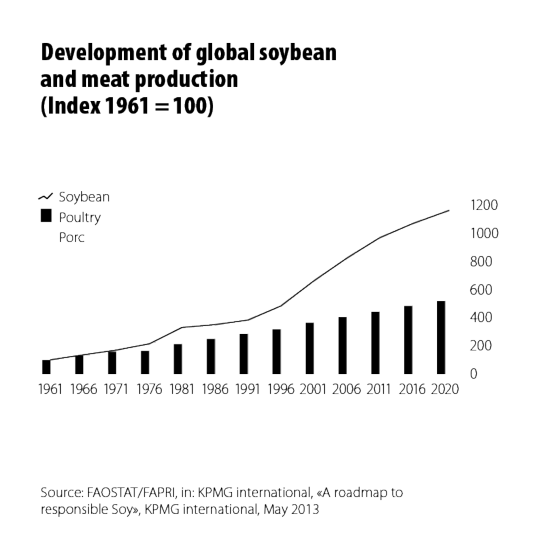 Production and trade continue to increase
The oil seed soya is grown on about 6 per cent of the global agricultural land. Soy is one of the most-traded commodities worldwide.
In 2020, around 350 million tons of soy were produced globally. Brazil, US and Argentina are the largest producers. These three countries are responsible for 80% of global production. The largest producer countries are also the largest exporters of soy. The largest importer of soy is China. Until 1990, China imported almost no soy. Today, China imports about three times the amount of EU consumption. This corresponds to about 100 million tonnes.
Switzerland produced about 4000 tons of soy. The U.S. Departement of Agriculture (USDA) calculates that soy production will increase to 458 million tons by the year 2029.
Negative Impact of soy production
While soy is an important source of protein for humans and animals, and of income and foreign currency in producing countries, it also entails extensive cultivation and the expansion of agricultural frontiers. Environmental issues range from deforestation and water pollution to soil erosion and loss of biodiversity. Significant greenhouse gas emissions are generated from land use change, and from production and application of fertilizers for soya cultivation. Soy expansion also generates social conflicts and tension between producers and local communities – concerning, for example, land rights, labour rights and rural migration.
Thanks to the moratorium on the production of soy the deforestation of the Amazon is on the decline. Wholesalers
are refusing to buy soy produced on land in Brazil's Amazon region that was cleared after July 2006. Today, some 5,000 square kilometers of forest are cut down each year. Ten years ago it was five times as much.
GM-free soy more and more from Europe
In Switzerland, genetically modified animal feed has to be declared as such in accordance with the Feed Regulations of 1999. The various label programs in Switzerland (IP-Suisse, Naturafarm, Bio Suisse/Bud, Suisse Garantie, QM Schweizer Fleisch, Terra-Suisse and others) require animals to be fed non-GM feed. All the soy products imported therefore have to come from GM-free production. Unintentional contamination with GMOs (genetically modified organisms) is permitted under Swiss law, provided that it does not exceed the defined threshold value of max. 0.9% contamination with permitted GMOs. Soy importers are free to define lower limits to minimize the risk of exceeding this threshold value.
While Switzerland, in effect, supports GMO-free feed and therefore GM-free soy, global production of GMO soy is increasing. It is estimated that 76 percent of the soy produced worldwide is genetically modified. In the three largest producing countries Brazil, USA and Argentina, 96, 94 respectively 100 per cent of soya cultivated in 2019 was genetically modified. GM-free soy imported into Switzerland therefore increasingly comes from Europe.
Switzerland is a role model
The member organizations of the Soy Network Switzerland are aware of the ecological and social problems resulting from soy production in South America in recent years. That is why the Soy Network was founded in 2011. Since then the members are actively committed to raising the portion of imported soy from responsible production. In 2020, the share of imports of responsibly produced soy is 95%.The degree to which this target is reached is measured annually.