Association
The Soy Network Switzerland is the center of excellence of the Swiss agricultural and foodsector regarding all questions of the production and import of soy for animal feed. The association supports the cultivation, the purchase and use of certified and responsibly produced soy. The aim of the network is for at least 90% of soy for the Swiss market to be responsibly produced.
Articels of association Soy Network Switzerland (german)
Executive board (from left to right): Emese Brosz (Fenaco), Martin Rufer (SBV; Vize-Präsident), Christian Oesch (VSF), Stefan Emmenegger (VSGF), Katrin Oswald (WWF), Raphael Schilling (Coop), Bernhard Kammer (Migros; Präsident)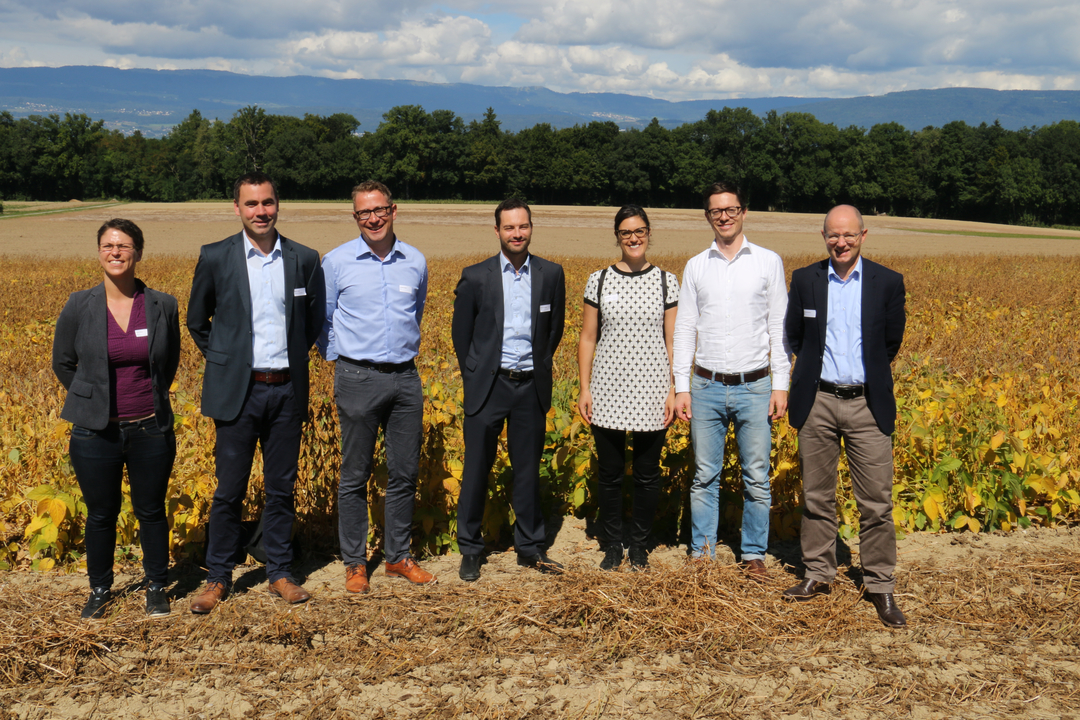 Become a member
The Soy Network Switzerland is an association of motivated organizations and welcomes all organizations that would like to promote responsible soy production. All the members of the Network are committed to actively helping reach its objectives. We will gladly send our terms and conditions to any organizations interested in joining. Please contact us.
Members and statements
Since 2011, the Soy Network Switzerland has worked towards buying soy from environmentally and socially responsible production and jointly communicating its added value. This alliance of soy buyers, producer associations, label and environmental organizations, manufacturers and retailers has the following members: Agrokommerz AG, ALDI SUISSE AG, Bell Schweiz AG, Bio Suisse, Coop Genossenschaft, Denner AG, Egli Mühlen AG, Emmi Gruppe, Ernst Sutter AG, fenaco Genossenschaft, Fuga Getreide AG, Granovit AG, Heinz & Co. AG, IP-SUISSE, KM Commodities AG, Kündig AG, Kunz Kunath AG, Lidl Schweiz, Meliofeed AG, Migros-Genossenschafts-Bund, Schweizer Bauerverband (SBV), Schweizer Milchproduzenten (SMP), Suisseporcs, Transgourmet Schweiz AG, UFA AG, Verband des Schweizerischen Getreide- und Futtermittelhandels (VSGF), Vereinigung Schweizerischer Futtermittelfabrikanten (VSF), Volg Konsumwaren AG, WWF Schweiz.